What is an ISO 9001 Quality Management System and what does certification mean?
Here are the basics
ISO 9001 quality management says you have a plan to meet customer requirements. Plans can change and the standard recognises this through the review and improvement process and, corrective and preventive actions.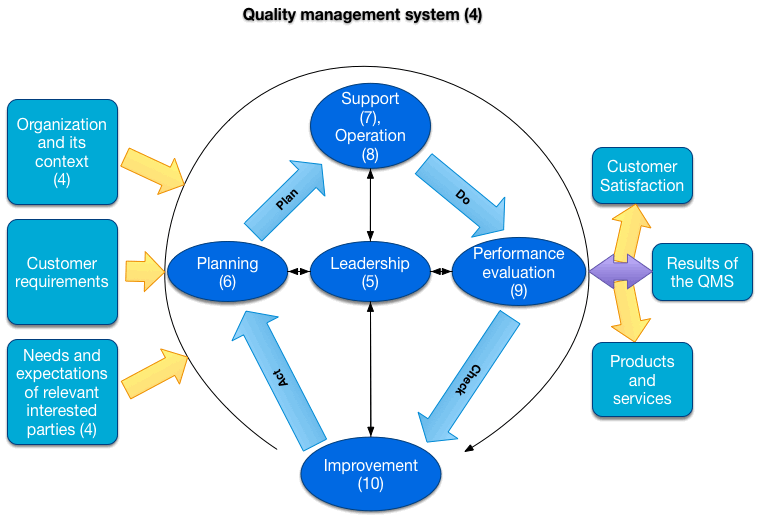 This international Standard promotes the adoption of a process approach when developing, implementing and improving the effectiveness of a quality management system, to enhance customer satisfaction by meeting customer requirements.
For an organisation to function effectively, it has to determine and manage numerous linked activities. An activity or set of activities using resources, and managed in order to enable the transformation of inputs into outputs, can be considered as a process. Often the output from one process directly forms the input to the next. The model shown in the diagram coves all the requirements of this standard, but does not show processes at a detailed level.
In addition, the methodology know as "Plan-Do-Check-Act" (PDCA) can be applied to all processes. PDCA can be briefly described as follows:
Plan: establish the objectives and processes necessary to deliver results in accordance with customer requirements and the organisation's policies.
Do: implement the processes.
Check: monitor and measure processes and product against policies, objectives and requirements for the product and report results.
Act: take actions to continually improve process performance.
Risk-based thinking
Once an organisation understands its context it can determine the risks as a basis for planning. We see planned actions to address 'risk and opportunity' as improving alignment and transparency of the company's high level business objectives and, the quality objectives at relevant functions, levels and processes needed for the quality management system.
Dispelling some myths of ISO 9001...
ISO 9001 is a quality system, belongs to the Quality department, needs a Quality Manager
No, the ISO 9001 system covers an entire business, starting with customer requirements, review and acceptance of those requirements, executing those requirements, measuring and monitoring processes to ensure requirements are being met and then, ultimately, delivery of a product or service that meets those requirements to ensure customer satisfaction.
Implementing and maintaining ISO 9001 is expensive
No, it does not have to be expensive. A company simply needs to document its management system based on what it already does and put in place the programs required to improve on them.
ISO 9001 means a document, procedure or work instruction for every process in the company
No, ISO 9001 defines requirements to "maintain documented information" and "retain documented information". The organisation is responsible for determining what documented information needs to be retained, the period of time for which it is to be retained and the media to be used for its retention.
A requirement to "maintain" documented information does not exclude the possibility that the organisation might also need to "retain" that same documented information for a particular purpose, e.g. to retain previous versions of it.
I have to rate my suppliers and have re-evaluation records of all of my suppliers
No ISO 9001 states the organisation shall determine and apply criteria for the evaluation, selection, monitoring of performance, and re-evaluation of external providers, based on their ability to provide processes or products and services in accordance with requirements. The organisation shall retain documented information of these activities and any necessary actions arising from the evaluations.
Click here for ISO 9001:2015 implementation!