Implementation

(from $1,600 per Standard)
There are many myths about ISO management standards, one of them being: "Implementing and maintaining the management system is expensive"
No, it does not have to be expensive. A company simply needs to document its management system based on what it already does and put in place the programs required to improve on them. For a small company, including Sole Traders, this may simply be a document and some record keeping.
As a company grows and employs staff, documented objectives, operational plans, KPIs and continuous improvement can be presented as company dashboards.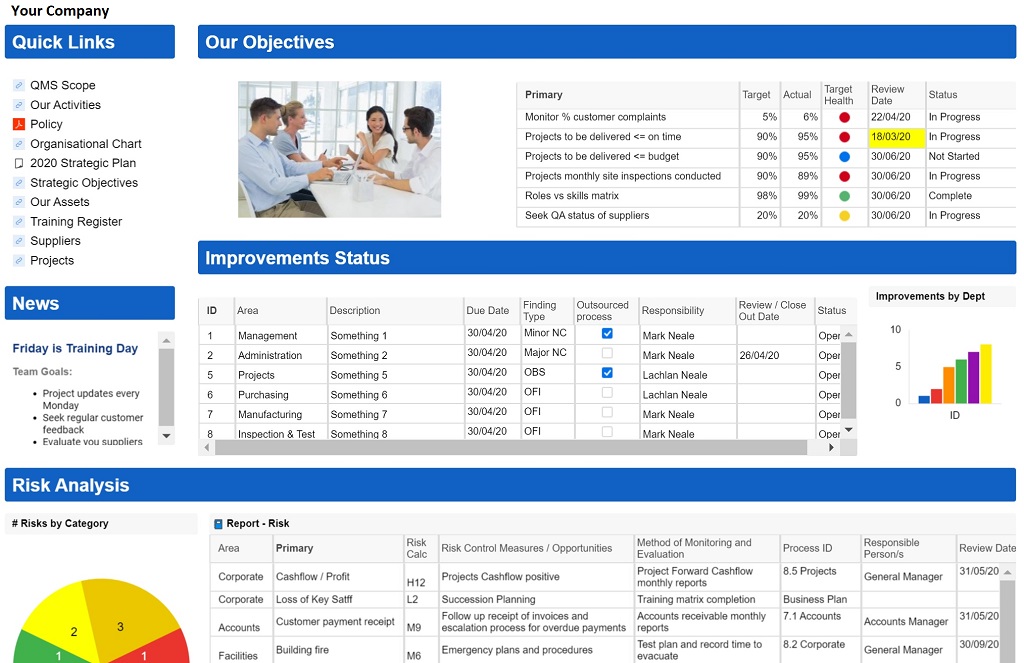 Whether it's ISO 9001, ISO 45001 or ISO 14001 MSN implementation uses a modular approach that allows you to implement these requirements over a timeframe that suits.
So no large upfront cost and daunting exercise of learning how a new management system works.
Gap Analysis

(from $950 per Standard)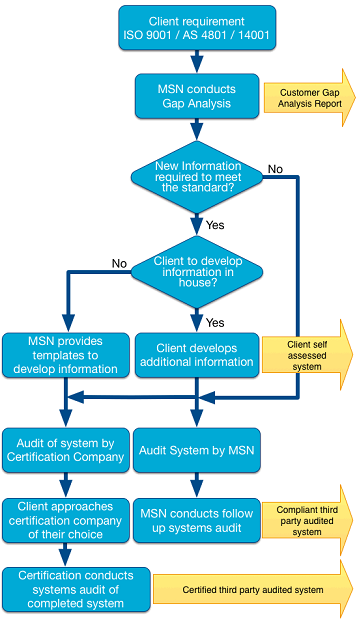 A client can get an understanding of the work required to become complaint by having a Gap analysis conducted. A Gap analysis is a detailed audit of existing systems in place to identify if and where gaps may exist preventing a system from being compliant. Our business framework uses the ISO management framework that provides a structure of requirements across 7 business areas:
Context of the organisation
Leadership
Planning
Support
Operation
Performance evaluation
Improvement
We take your existing processes and identify them against each business area. Where there are gaps in compliance we can provide templates that, with minimal customisation, can add the processes and information required to meet overall compliance of the management system.
As a client of MSN you can track the implementation of your management system, acknowledging your own systems already in place and the documents and information you have implemented using MSN templates.
Once completed you can now continue to run your business under the new management system framework, using the review and improvement process to demonstrate on-going compliance.
See our Internal audit services or conduct your own audits as part of the review and improvement process.
Operating procedures and safe work method statement assistance
($ PoA)
MSN can assist with writing both Operating Procedures and Safe Work Method Statements (SWMS). Email us for more information.
Risk Management
Risk management is conducting by applying four basic steps set out in 'How to Manage Work Health and Safety Risks Code of Practice 2011'. This process must be followed to eliminate or minimise exposure to risks. The steps are:
Identify hazards
Assess the risks
Control the risks
Review the control measures
MSN has over 25 years project engineering experience where management of risk is a significant part of delivering product and services. Whether it's providing templates for companies to conduct their own risk assessment or providing direct consulting we can help. Download from our resources centre or email us for more information.
Integrated Management Systems

($ PoA)
An integrated management system is the bringing together of the principles common to OHS, Environment & Quality management. If you are considering implementing 2 or more compliance systems now or in the future, you may be interested to know that the cost of implementing 3 systems together at the one time is significantly cheaper than if you implemented the same systems separately. Email or call us for more information.
.